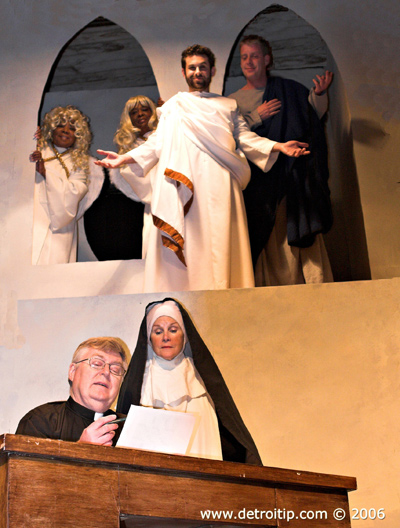 Father Bingo Promo Photo:

Left to right top
Rosalind Holmes of the Original Vandellas
Annette Helton of the Original Vandellas
Eric Gutman
Dan Morrison
Lower:
Photo credit: www.detroitip.com Copyright 2006

For more cast photos visit our Media Center
Meet Our Cast
Armond
Barbara Bloom
Betsy Bronson
Robert Doyle
Eric Gutman
Annette Helton
Rosalind Holmes
Leslie Hill
Chris Kerouac
Joe Lannen
Kevin S. Marton
Paul Jackson Miles
Dan Morrison
Michael Parr
Anthony Provenzola
David Pulice
Patricia Raney
Heather Yanke
Carlethia Robinson
Elizabeth Sisler
Marlon Smith-Jones
Michelle Stackpoole
Mark Vondrak
Read About The Cast
Father Bingo Bets on Motown

HOUR Detroit Magazine February 2006
When the curtain rises at Detroitís Music Hall on Feb. 10, theatergoers will witness a moment not seen in a long while: the Motor City debut of a full-scale musical production. So the toe-tapping comedy Father Bingo may not have a Broadway run scheduled (as did Fiddler on the Roof and Hello, Dolly! when they premiered here in the 1960s), but it does boast a writer from Dearborn, a Detroit story line and a pair of Motown stars. It also has an ambitious local production team that, if not aiming for the Great White Way, is looking to make a musical mark.
Listen to the Music - in MP3